---
So New York fashion week is pretty much over and I am officially exhausted. This was my first season of fashion week where I was on the other side and it was awesome! Before I made it "on the list" I was working for PR companies that dealt with the VIPs/backstage (seating them & treating them like VIP's LOL), front of house (checking attendees in) and helped prep for shows (coffee runs). So it was very surreal for me to attend as a blogger and fully immerse myself into watching the shows.
For those who don't know, true runway shows are only about 10 minutes long. So all those longgggg hours and sleepless nights that go into this is on 10 minutes! Shoutout to the designers, PR agencies, models, makeup artists, hair dressers, caterers, venue staff, decorators, DJ's, photographers, drivers, assistants  and everyone else I have forgotten because if you didn't know it truly takes an army to put on a show!
Designers are always trying to do something new so presentations are also very big. This is when models literally just stand there for an hour while all the guests can walk around or through them to really see the detailing of the pieces (& yes models have fainted in front of my eyes before). I personally like these better then runway shows because you can really look at the whole collection in one picture.
Other designers will come up with crazy concepts to get the guests hyped, like Tommy Hilfiger for example. He has set the bar so high because he not only made Pier 16 into Tommy Pier he also did a huge collaboration with Gigi Hadid featuring their line, Tommy x Gigi collection. This pier was open to the public the day after the show which featured a ferris wheel, games, food, drinks and much more! You could even shop the collection and vintage Hilfiger there as well. Snaps for you Tommy!
Not only are there shows during fashion week but so many other companies now host events like different parties, store openings, or art gallery viewings which I tried to attend/ got invited to. This gives the company or store whether it is old or new, a sense of great advertising and networking for all. Plus these events normally have food and cocktails, so count me in!
Ask me any other questions you may have about fashion week and I would love to answer!
My favorite look from the week was definitely this blush silk slip dress. To be totally blunt (when am I not) I hated the tee and slip look forever but something about this made me love this look now. You never know if you don't try, right?! I have been trying to find a colored slip  for a while now and all the ones that I liked were either too tight at the hips or the stomach.. anyone else have that problem?
Well this one from Cotton Candy L.A. via Bloomingdale's is amazing (they call this cognac not blush FYI) and comes in black as well. I placed a black Beatles graphic tee underneath (from one of those super touristy shops in London, but had to have it) and my patent leather boots are Calvin Klein and super comfy (they are almost sold out everywhere but have attached a link below). I also was planning on wearing a jean jacket or black leather moto jacket with it but I was sweating from the 90% humidity in NYC that day so I made a smart decision for once and choose my health over fashion.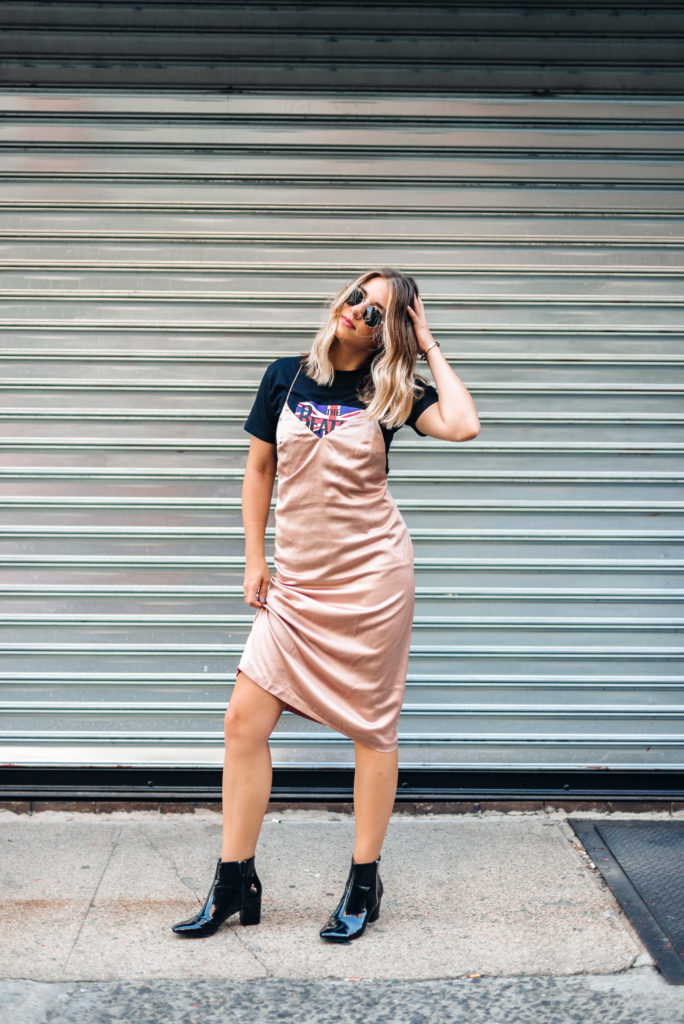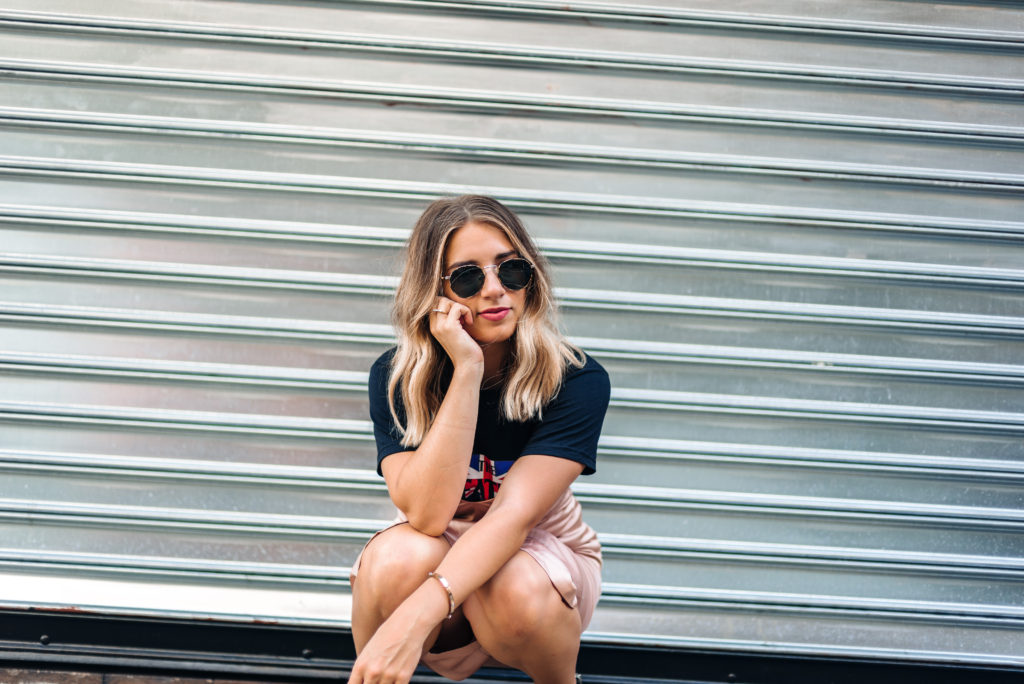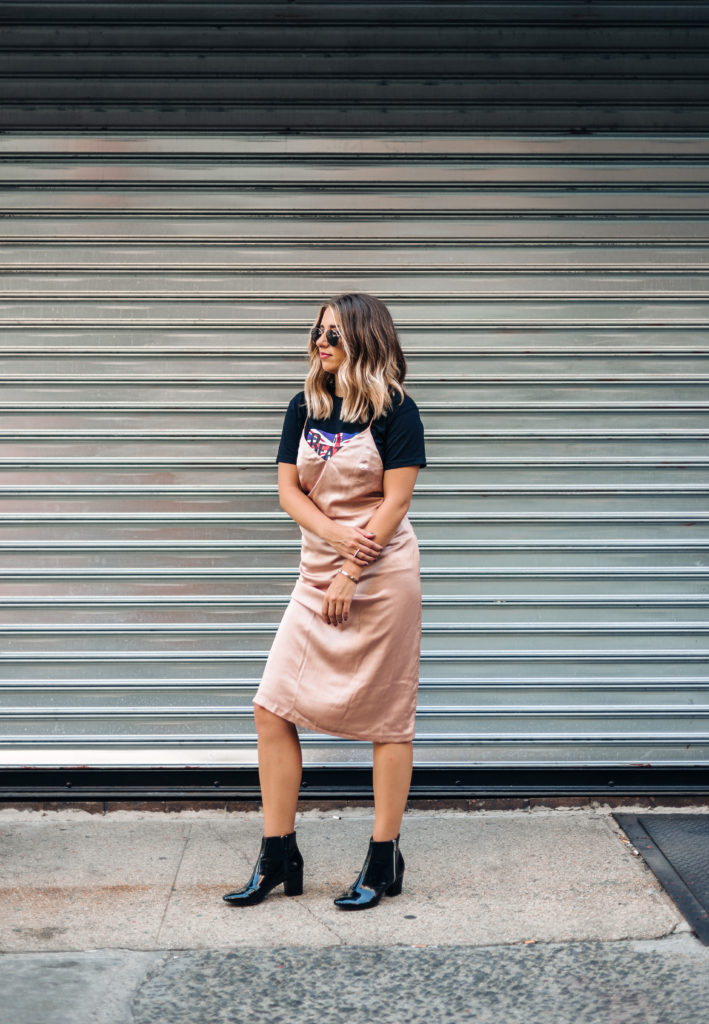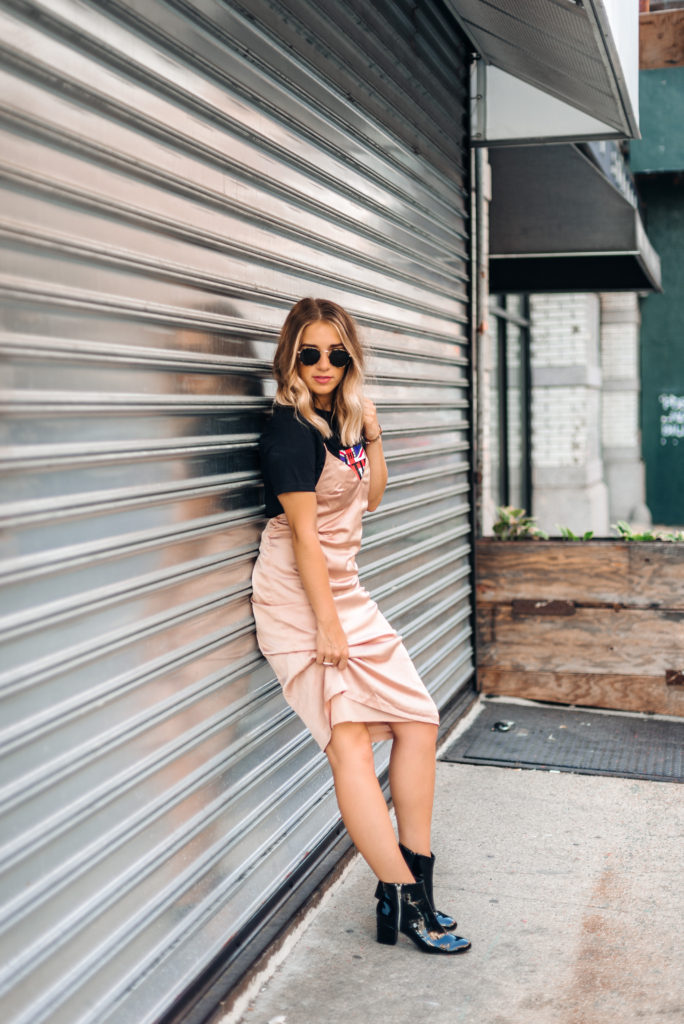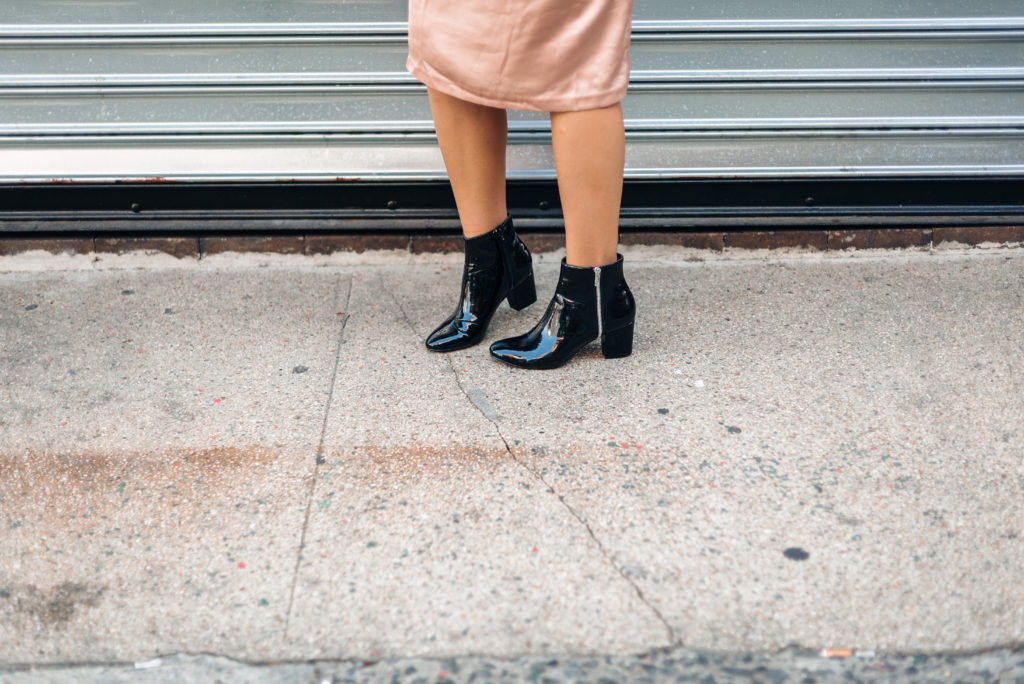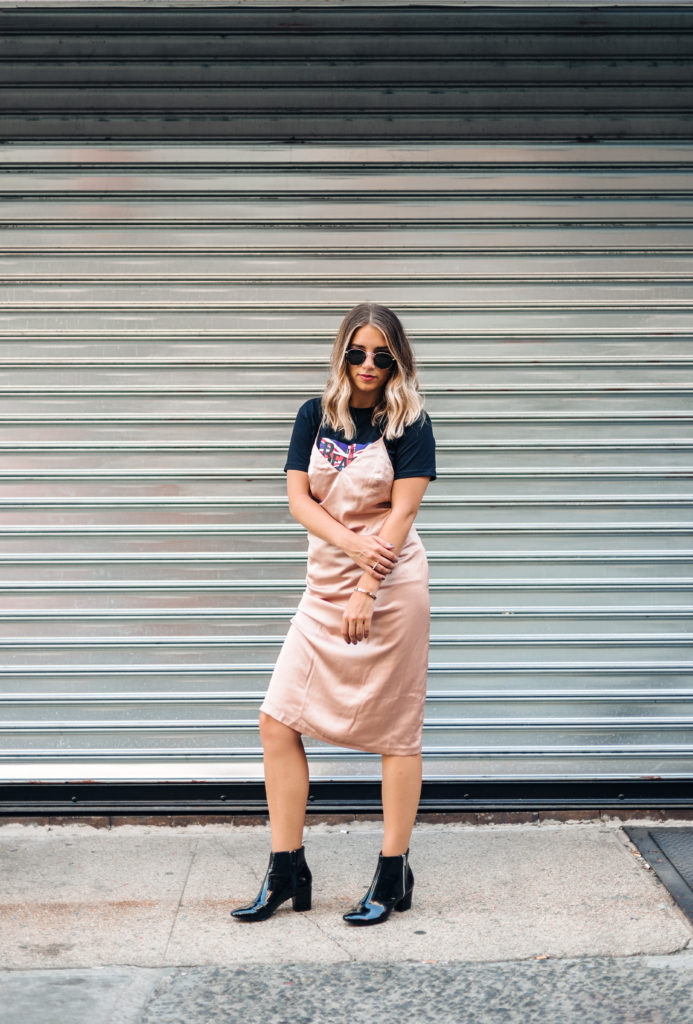 Pink Slip Dress // Graphic tee (similar here & here) // Patent Booties (similar here)  // Sunnies
Many XO's,
Alyssa