Contrary to most NYC residents, the longer I live in the city, the more magical NYC gets around the holidays. I get so excited when I hear of a new place to try or hot spot I finally got to go to. If you have never visited NYC (end of November through beginning of January), you better put it on your list! And if you are visiting soon then here is a guide for you! I broke it down by where to get a holiday cocktail, NYC hot spots, and holiday sites and shops.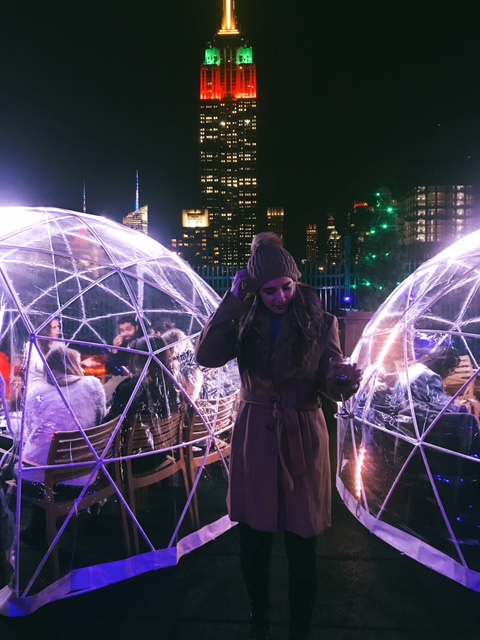 (230 Fifth Rooftop)
Drink
Rolf's: will forever list this as a top place to go around the Holiday's
230 Fifth: a very cool rooftop view and warm igloos you can sit inside while still being on a rooftop! They also have happy hour until 7pm (which is rare for a NYC rooftop!)
Baita By Birreria: across from the Flatiron building, walk through Eataly to catch the elevator that will take you to the decorated rooftop
VYNL's Winter Wonderland: a hidden basement bar only open from now until the end of January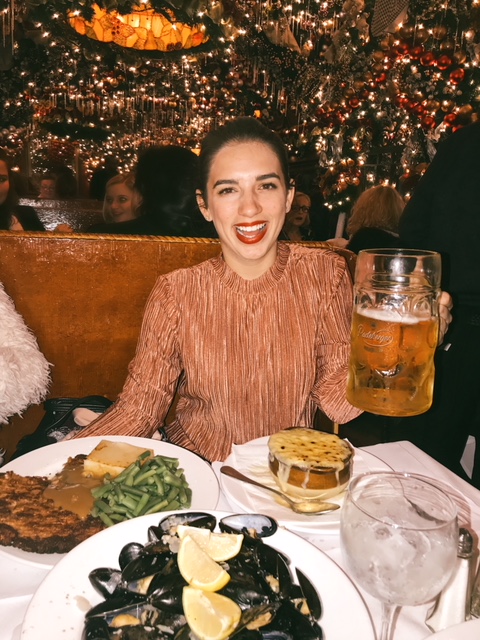 (Rolf's)
Eat
Bluestone Lane: warm up with a strong coffee and some light bites
Root & Bone: southern style brunch
Saxon + Parole: bloody mary bar & mouth watering entree's
Shake Shack: grab a quick burger and cheese fries at NYC's staple fast food restaurant
Black Tap: Gourmet Burger's and oversized milkshakes… need I say more?
Rolf's: authentic German food- so good!
Pizza: Vezzo Thin Crust Pizza or Arturo's will NOT disappoint
Angelo's: my favorite restaurant in Little Italy
Eataly: EAT your way through this huge building and bring home some goodies!
Joe's Shanghai: known for their soup dumplings, a must if you have never tried them!
Momofuku Noodle Bar: authentic Ramen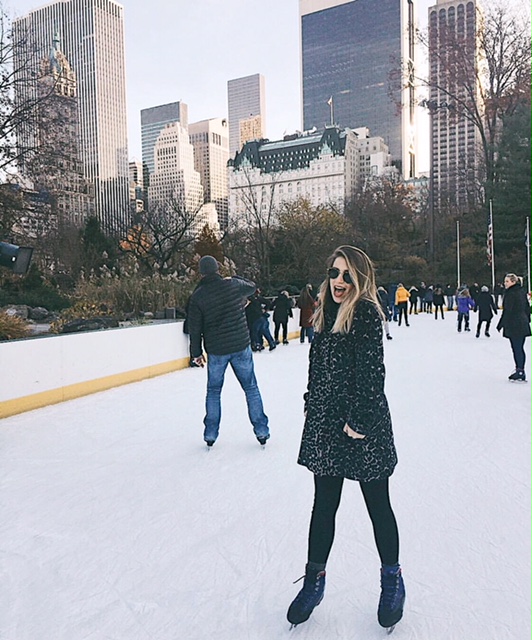 (Wollman Park)
See
Central Park: ice skating at Wollman Park (my personal favorite) then find The Mall (a big walkway) that takes you through the park
Bryant Park Winter Tents: cute gifts for you and your loved ones plus some yummy bites
Rockefeller Tree: an obvious must see
The Rockettes: they NEVER disappoint (fun fact: I tried out to be one when I was 18!)
All of the below have amazing windows and beautifully decorated interiors for the holidays (& all in walking distance)!
Bergdorf Goodman
Macy's
Lord & Taylor
Saks Fifth Avenue
Bloomingdale's
Henri Bendel
Happy Holiday's!
Many XO's,
Alyssa