I can't believe the 4th of July is already here! I love wearing red, white and blue all throughout the holiday weekend but in subtle ways. Yes, the classic American flag suit is cute and all but I'm not going to tell you to go out and buy it because lets be realistic, you will only wear it once and never again. Invest your money in pieces you can wear more than once. So below are some outfit ideas for your weekend ahead. If you're heading to a picnic, a concert, the beach or all three here are my must have's!
Picnic:
Maxi's are always my go-to during an all day event outside. They are easy to throw on and very light that you can dress up or down. Since the print is bold, I would pair it with this simple bangle and lace up sandal. People are afraid to wear turquoise with only neutral colors but I love it with anything.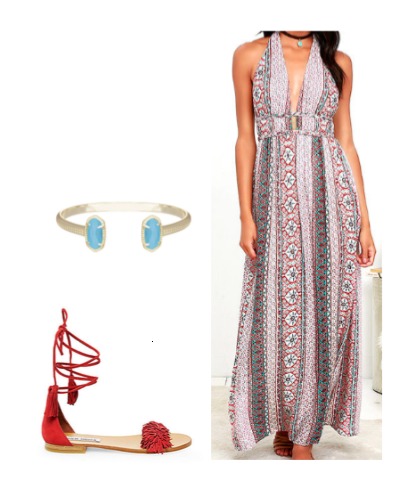 Kendra Scott bracelet, Steve Madden sandal, Lulus Maxi Dress
Concert:
A romper is the perfect outfit for a summer concert. It is trendy but still very comfortable. Pair it with this perfect bootie for whatever type of grounds you will be on from grass to gravel. I love mixing prints and this gingham crossbody goes great with the striped romper. This crossbody can also be a wristlet for whatever you prefer.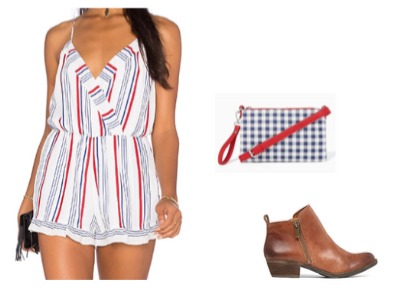 Tularosa (Revolve) romper, Charming Charlie crossbody, Lucky Brand bootie
Beach:
I am obsessing over one-pieces right now. I love this VS suit which has a little plunge in the front with a checky cut and open back. Get it while it lasts, or any VS suit for that matter since this is their last season (insert crying emoji). I love a good white chiffon tunic because it is timeless and so versatile. Wear it as a cover-up or tuck it into jean shorts, this tunic is easy to from breakfast to the beach to grab lunch. I will always love red heart shaped sunglasses because they are so fun and so cheap, so it's okay if you lose them in the ocean!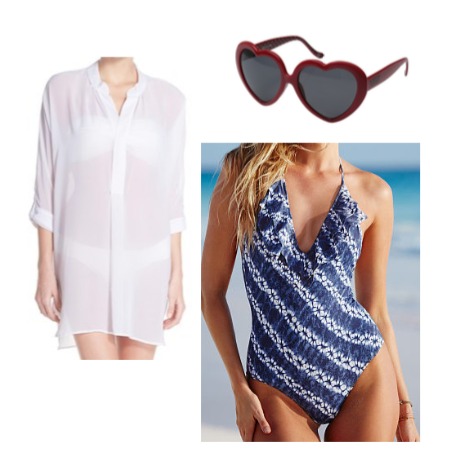 Victoria's Secret bathing suit, Tommy Bahama (Nordstrom) tunic & Vans (Zappos) sunnies
Many XO's,
Alyssa