What does one do for the 4th of July in NYC? Leave the city and rent a beach house of course! A nice long weekend away was much needed in my life. A time to get out of the city and relax with my friends. We rented a house in the small town of Sea Girt, New Jersey where you could drive less than 5 minutes down the road and be in another town (where our friends have a house). Our street had the most adorable houses that I would compare to Charleston, South Carolina.
So what did my weekend consist of? A LOT of food, drinks, laughter and of course celebrating America (see pics below & on my Instagram)! Our daily schedule: beach in the day, dinner in the evening, bars at night… and occasionally hopping in and out of the hot tub. We went out to the Parker House, Osprey, Bar A, and the Boathouse which was all so much fun.
We had an awesome American style cookout with an American flag dessert I made out of angel food cake cups. The store didn't have a sheet cake so this had to make due since I am not really a baker. I always wanted to make this recipe since it is so easy and only calls for 4 simples ingredients: cake, cool whip, and strawberries and blueberries. We also went out to eat two nights. One in Belmar, NJ called 10th Avenue Burrito Co. for cheap but DELICIOUS Mexican. I got a tostado with chicken and of course a margarita (on the rocks, no salt please)! Another night we drove into Asbury Park boardwalk for some seafood where I got oysters that I was craving and a lobster salad served in a cute martini glass.
And finally the drink we were loving all weekend that you were all asking about: our concoction of champagne, orange juice, and sherbet (red, white, and blue of course)! For night time we changed it up with vodka, cranberry juice and sherbet. Now I need a detox!
As for my outfits, I tried to wear as much red, white, and blue as possible from following my guidelines from my last post.
Outfit links (going clockwise): Forever 21 top & skirt; Urban Outfitters bodysuit & shorts; Free People top & Urban Outfitters shorts (not available online anymore); Urban Outfitters one piece bathing suit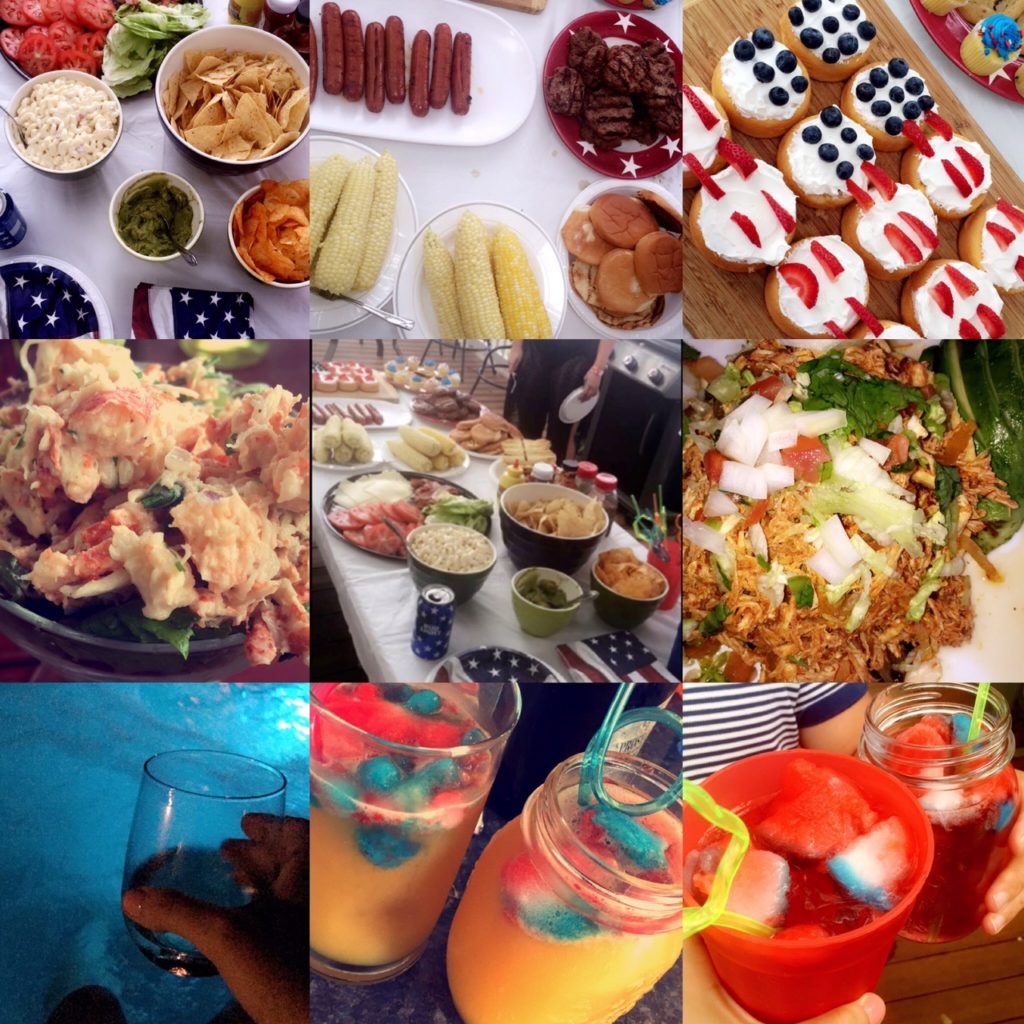 Being away for a few days from this crazy city of Manhattan (that I have a love/hate relationship with) I forget about all the small things in life. Like driving a car to get coffee and groceries and hanging out with friends on the back porch are things that I truly cherish and appreciate now more than ever.
So what did I realize from this weekend? Treat others how you would like to be treated. Surround yourself with people that lift you up and push you to keep going. America needs more love and support from one another. We all live in this crazy world filled with more negative energy than ever and  we can't let it hold us back. Be better by doing better. Life is too short not too!
Many XO's,
Alyssa