Follow my blog with Bloglovin
Wahooo my first recipe post! Like I've said before, I pretty much base my days (especially weekends) around food. I love to cook but don't do it as often as I would like. All of you guys loved this Insta-story and asked for the recipe so I decided to share it! So when my boyfriend came in to visit this past weekend I decided to cook up a spicy "Asian" dish (our favorite) but with a very American/ Alyssa twist to it. I didn't want to spend a lot of money on those Asian sauces and oils that I will never use again so I improvised and it turned out fantastic and SO easy! The fresh pasta with the spicy wraps were a perfect combo!
Chicken lettuce wraps:
Serves 4. Total time: 20 minutes
2 tablespoons of EVOO or vegetable oil
1 pound ground chicken
2 leeks (cut to clean the sand out of them and only use the white and light green parts)
2 fresh jalapenos (chopped and seeded to your spice level)
2 teaspoons of ground ginger (or 2 fresh pieces of ginger)
2 tablespoons of garlic (I used canned or 2 fresh large cloves)
1 teaspoon of pepper
1 tablespoon of red crushed pepper
2 tablespoons soy sauce
2 tablespoons of Sriracha (or more depending on your spice level)
2 tablespoons of Soy Ginger Vinaigrette (from Trader Joe's)
1 bag of Romaine hearts (use biggest leaves)
In a large skillet pour oil in over high heat. Add the chicken and flip occasionally until light brown (you can break it up with a spoon to cook faster). About 5 minutes.
Add leeks, jalapenos, ginger, garlic until leeks shriveled up and are soft. Throw in some pepper and red crushed pepper. About 3 minutes.
Add the sauces- soy sauce, sriracha, and Soy Ginger Vinaigrette. About 2-3 minutes until everything is blended.
Serve with lettuce wraps and badda-bing! You can add more sriracha on top for added heat!
Noodles:
Serves 4. Total time: 30 minutes
1 box (12 oz) of whole wheat linguine
2 eggs
1/2 cup of olive oil
1/2 cup of soy sauce
1/4 cup of lemon juice
1 tablespoon of basil
1 tablespoon of cilantro
1/2 bundle of green onions
1 orange bell pepper
1 red bell pepper
2 cups of sugar snap peas
2 cups of pre-shredded carrots
Cook linguine according to package directions and drain. I cooked the pasta al dente (this takes about 20 minutes by the time the water boils and pasta is done)
To time it out, when the water gets to a boil heat a separate skillet to cook veggies in with olive oil.
Once the veggies are soft, throw them in the drained pot with the pasta.
Use the veggie skillet to cook your eggs in.
Stir in soy sauce, basil, cilantro, lemon juice, and a little more olive oil into pasta and veggies.
Once egg is cooked over easy, chop it up and toss it into the pasta and veggies.
Serve immediately!
(I wish I would've had baby corn and water chestnuts- def a must add if you like those two!)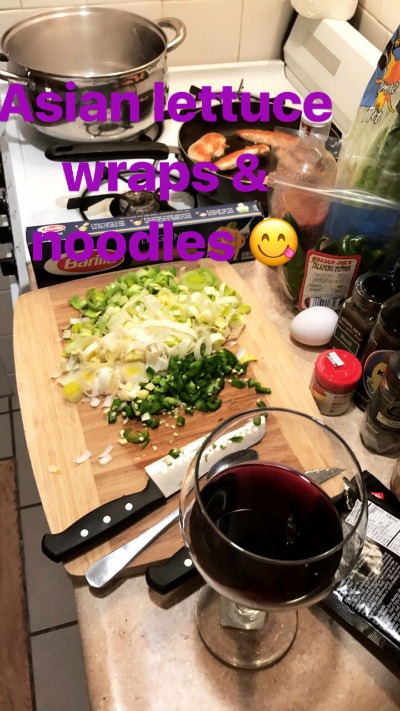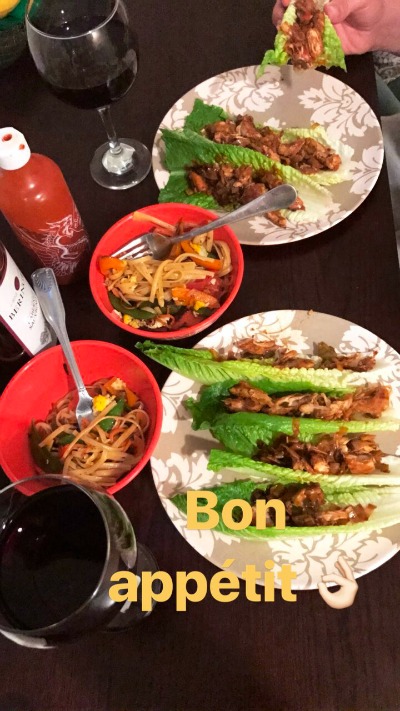 Sorry I do not have the best pictures to show (this wasn't a planned post) It was so easy and healthy too. The fresh veggies in the pasta with the added herbs made it so fresh and yummy while the lettuce wraps had a tangy spice to them…and the red wine was a nice touch too!
Enjoy!
Let me know how your dish turns out!
Many XO's,
Alyssa